Your wedding day is one of the most memorable days of your life, it's the very milestone that marks the day it all became real. As a husband looking back upon the day that I married my bride, I still remember how it felt, my wife and I enjoy and cherish these moments captured in time and instilled in our hearts forever.
As image-makers, it is our privilege to document your story on this very special day. Not only do we undertake every effort to capture what is most important to you, but it is with great admiration that your story is captured in a way that is as unique as your love story. For this reason, you are investing in your legacy that cannot be recreated beyond this precious moment. I look forward to you enjoying and cherishing these moments for generations to come.
Beyond the wedding... as storytellers, we believe there are so many moments that are filled with emotion, excitement, and anticipation. What does this mean... They are going to be your first family heirlooms that will be passed down to your children and grandchildren one day and cherished for many generations. They will remind you of the happy tears and how you felt and looked and how you are loved. Our brand is dreamy, artistic perfect wedding images. You also deserve impeccable services. This will be our promise to you with your photography experience with us. From the first email to every step of the way leading up to your wedding day with every detail and happy tears to the hug goodbyes.
Charleston, SC Wedding Photographer Pricing
These 3 Collections are (all inclusive) this is probably the best compliment we get from every client (no hidden cost). They include a second shooter, the hours in coverage, master editing of your wedding images, online gallery, including a thumb drive with high-resolution images, print share release letter, and here is the best part an album. We did we say all Inclusive.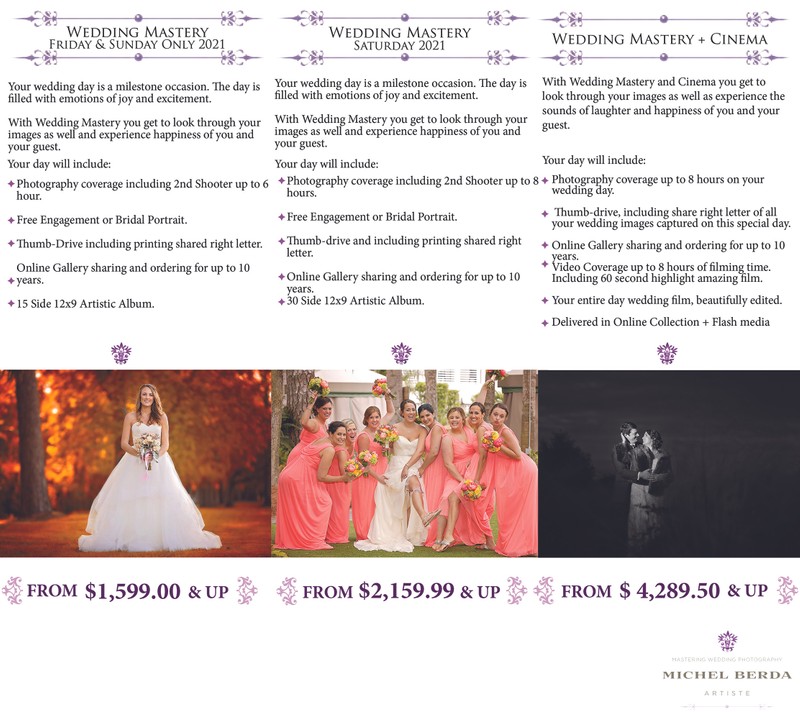 Download the wedding collection brochure, click here
Charleston, SC Wedding Photographers Contact & Info
Weddings for us usually book 12-18 months in advance. With our amazing offer we find many times that we have multiple clients trying to book the same date. Therefore we do require a 50% retainer and a signed wedding contract in order to book. We hope you can understand this and we thank you.
Should you have any questions or would like to explore more, we would love to offer you a free consultation. We realize that our clients work during the day, therefore I make myself available to all anytime during the week and in the evening up to 9.30 p.m. Eastern time so that they do not feel that they need to rush through this very important decision process during their working hours. Feel free to use our beautiful
Contact Form
, or simply just send us an email at kingstphoto1@bellsouth.net.
Thank you so much for your time and by reading this entire investment page. It would be an amazing honor should you give us the privilege to capture your magical day?

Let's Connect